Elastic Mounts – Rubber-Metal Mounts – SCC
This armoured mounts are compact low-profile mountings with an oval base plate. They are easy to install and combines 3-way control of movement with relatively large deflection in the elastomer.
These elastic mounts, combining maximum anti-shock isolation and optimum vibration control, have been specially designed for mobile equipment applications.
The main characteristic of these isolators is to gradually increase stiffness under deflection, which prevents any sudden bottoming.
The high-resistance steel centre bolt, mechanically joined to the outer cup, affords security against breakage. This design prevents swivelling and rotation.
These rubber-metal mounts are available in several sizes and different hardnesses (35-45-60-75 Shöre) to accommodate loads up to 1000 Kg.
TECHNICAL CHARACTERISTICS:
Natural rubber NR type, or high quality, elastomer for the majority. With an operating temperature from –40ºC to +70ºC.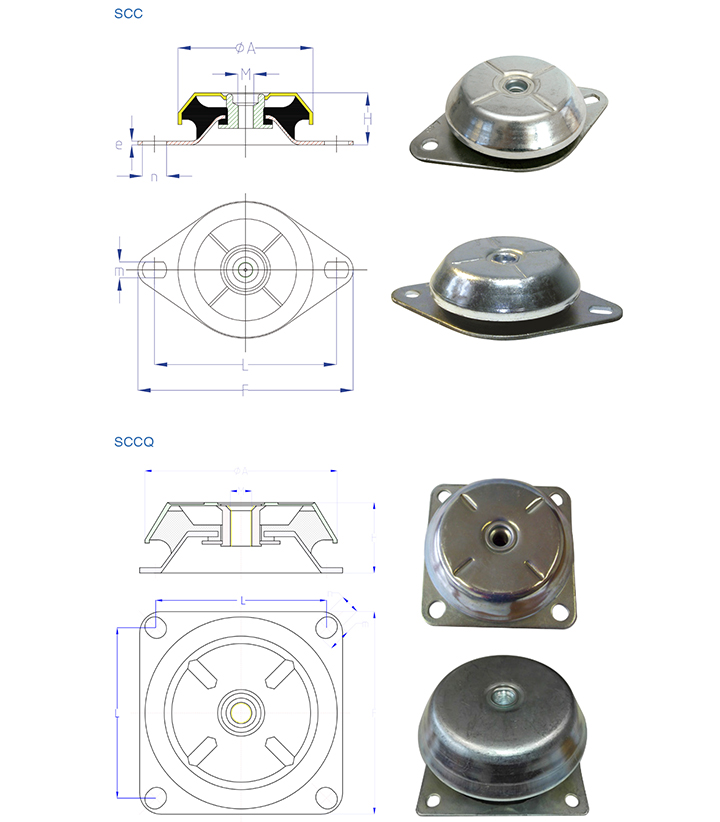 Optional fixing screw with height adjusters also available.
REF / ART.NR
DIMENSIONS
COMPRESSION
SELECTION GRAPHICS
Sh
ØA
H
L
M
F
e
m
n
LOAD
DEFLECTION
mm.
kg.
mm.

SCC

SCC080M10NR35
35
83
36
110
M-10
135
3
11,5
15
80
4,5±1,0
SCC080M10NR45
45
83
36
110
M-10
135
3
11,5
15
130
4,5±1,0
SCC080M10NR60
60
83
36
110
M-10
135
3
11,5
15
175
4,5±1,0
SCC080M10NR75
75
83
36
110
M-10
135
3
11,5
15
230
3,5±1,0
SCC080M12NR35
35
83
36
110
M-12
135
3
11,5
15
80
4,5±1,0
SCC080M12NR45
45
83
36
110
M-12
135
3
11,5
15
130
4,5±1,0
SCC080M12NR60
60
83
36
110
M-12
135
3
11,5
15
175
4,5±1,0
SCC080M12NR75
75
83
36
110
M-12
135
3
11,5
15
230
3,5±1,0
SCC095M10NR35
35
92
34
123
M-10
150
3
10,0
15
200
5,0±1,0
SCC095M10NR45
45
92
34
123
M-10
150
3
10,0
15
300
5,0±1,0
SCC095M10NR60
60
92
34
123
M-10
150
3
10,0
15
600
5,0±1,0
SCC095M10NR75
75
92
34
123
M-10
150
3
10,0
15
900
5,0±1,0
SCC095M12NR35
35
92
34
123
M-12
150
3
10,0
15
200
5,0±1,0
SCC095M12NR45
45
92
34
123
M-12
150
3
10,0
15
300
5,0±1,0
SCC095M12NR60
60
92
34
123
M-12
150
3
10,0
15
600
5,0±1,0
SCC095M12NR75
75
92
34
123
M-12
150
3
10,0
15
900
5,0±1,0
SCC110M12NR35
35
106
41
143
M-12
169
3
12,5
19
200
7,0±1,0
SCC110M12NR45
45
106
41
143
M-12
169
3
12,5
19
340
7,0±1,0
SCC110M12NR60
60
106
41
143
M-12
169
3
12,5
19
420
7,0±1,0
SCC110M12NR65
65
106
41
143
M-12
169
3
12,5
19
425
5,0±1,0
SCC110M12NR75
75
106
41
143
M-12
169
3
12,5
19
800
5,0±1,0
SCC110M16NR35
35
106
41
143
M-16
169
3
12,5
19
200
7,0±1,0
SCC110M16NR45
45
106
41
143
M-16
169
3
12,5
19
340
7,0±1,0
SCC110M16NR60
60
106
41
143
M-16
169
3
12,5
19
420
7,0±1,0
SCC110M16NR65
65
106
41
143
M-16
169
3
12,5
19
425
5,0±1,0
SCC110M16NR75
75
106
41
143
M-16
169
3
12,5
19
800
5,0±1,0
SCC150M16NR35
35
150
54
182
M-16
218
4
14,0
18
450
9,0±1,5
SCC150M16NR45
45
150
54
182
M-16
218
4
14,0
18
600
9,0±1,5
SCC150M16NR60
60
150
54
182
M-16
218
4
14,0
18
800
8,0±1,5
SCC150M16NR65
65
150
54
182
M-16
218
4
14,0
18
1000
8,0±1,5
SCC150M16NR75
75
150
54
182
M-16
218
4
14,0
18
1000
6,0±1,5
SCC155M16NR35
35
150
50
182
M-16
218
4
14,0
18
450
9,0±1,5
SCC155M16NR45
45
150
50
182
M-16
218
4
14,0
18
600
9,0±1,5
SCC155M16NR60
60
150
50
182
M-16
218
4
14,0
18
800
8,0±1,5
SCC155M16NR65
65
150
50
182
M-16
218
4
14,0
18
1000
8,0±1,5
SCC155M16NR75
75
150
50
182
M-16
218
4
14,0
18
1000
6,0±1,5

SCCQ

SCC150M16QNR35
35
150
54
132
M-16
170
4
14,5
17
450
9,0±1,5
SCC150M16QNR45
45
150
54
132
M-16
170
4
14,5
17
600
9,0±1,5
SCC150M16QNR60
60
150
54
132
M-16
170
4
14,5
17
800
8,0±1,5
SCC150M16QNR65
65
150
54
132
M-16
170
4
14,5
17
1000
8,0±1,5
SCC150M16QNR75
75
150
54
132
M-16
170
4
14,5
17
1000
6,0±1,5
SCC155M16QNR35
35
150
50
132
M-16
170
4
14,5
17
550
6,0±1,0
SCC155M16QNR45
45
150
50
132
M-16
170
4
14,5
17
720
6,0±1,0
SCC155M16QNR60
60
150
50
132
M-16
170
4
14,5
17
1320
6,0±1,0
SCC155M16QNR65
65
150
50
132
M-16
170
4
14,5
17
1430
6,0±1,0
SCC155M16QNR75
75
150
50
132
M-16
170
4
14,5
17
1800
6,0±1,0
SCC160M20QNR45
45
161
58
140
M-20
170
4
14
14
900
7,0±1,0
SCC160M20QNR50
50
161
58
140
M-20
170
4
14
14
1500
7,0±1,0
SCC160M20QNR60
60
161
58
140
M-20
170
4
14
14
1600
7,0±1,0
SCC160M20QNR75
75
161
58
140
M-20
170
4
14
14
2000
7,0±1,0
SCC180M20QNR45
45
180
66
150
M-20
190
5
21
18,5
1120
7,0±1,0
SCC180M20QNR60
60
180
66
150
M-20
190
5
21
18,5
2240
7,0±1,0
SCC180M20QNR75
75
180
66
150
M-20
190
5
21
18,5
3000
6,0±1,0
SCC220M24QNR45
45
224
105
180
M-24
220
4
17,5
17,5
1700
17,0±2,0
SCC220M24QNR60
60
224
105
180
M-24
220
4
17,5
17,5
3400
17,0±2,0
SCC220M24QNR75
75
224
105
180
M-24
220
4
17,5
17,5
5000
15,0±2,0


Polígono Industrial Lastaola, Parcela 3,
Naves A8-A11, 20120 Hernani (Gipuzkoa)
Tel: +34 943 335 350 · Fax: +34 943 335 291