Elastic Mounts – Rubber-Metal Mounts – LC
This range of conical mounts is specially designed for protection from severe shock environments, vibration and structure-borne noise. These compact mounts are designed for high load capacity plus relatively large static deflection in an axial direction and combines 3-way control of movement.
This elastic mount is normally assembled with overload and rebound washers to control and limit the movement of the suspended equipment under the action of shock loads.
TECHNICAL CHARACTERISTICS:
Natural rubber NR type, or high quality, elastomer for the majority. With an operating temperature from –40ºC to +70ºC.
The mechanical characteristics of this series can differ due to the hardness tolerances of the elastomers.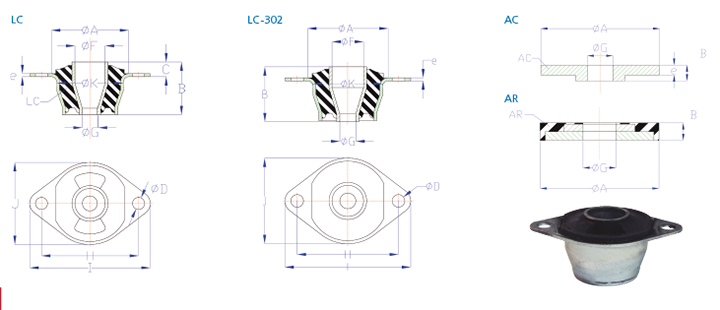 REF / ART.NR
DIMENSIONS
STATIC LOAD
STIFNESS RATIO
SELECTION GRAPHICS
Sh
ØA
B
ØD
C
e
ØF
ØG
H
I
J
ØK
LOAD
DEFLECTION
Kx
Ky
Kz
mm.
kg.
mm.

LC

LC102NR35
35
66
45
10.3
12
2.5
25.5
12.8
82.5
102
70
57
50
3,5±0,5
1
1,1
1,9
LC102NR45
45
66
45
10.3
12
2.5
25.5
12.8
82.5
102
70
57
80
3,5±0,5
1
1,1
1,9
LC102NR55
55
66
45
10.3
12
2.5
25.5
12.8
82.5
102
70
57
120
3,5±0,5
1
1,1
1,9
LC102NR65
65
66
45
10.3
12
2.5
25.5
12.8
82.5
102
70
57
170
3,5±0,5
1
1,1
1,9
LC102NR75
75
66
45
10.3
12
2.5
25.5
12.8
82.5
102
70
57
215
3,5±0,5
1
1,1
1,9
LC122NR35
35
70
50
10.4
16
3
25.5
12.8
100
122
75
57
95
4,5±0,5
1
1,1
1,9
LC122NR45
45
70
50
10.4
16
3
25.5
12.8
100
122
75
57
125
4,5±0,5
1
1,1
1,9
LC122NR55
55
70
50
10.4
16
3
25.5
12.8
100
122
75
57
150
4,5±0,5
1
1,1
1,9
LC122NR65
65
70
50
10.4
16
3
25.5
12.8
100
122
75
57
260
4,5±0,5
1
1,1
1,9
LC122NR75
75
70
50
10.4
16
3
25.5
12.8
100
122
75
57
375
4,5±0,5
1
1,1
1,9
LC170NR35
35
95
70
13
18
3
34
22
141
170
100
74
180
6,0±1,0
1
1,1
1,9
LC170NR45
45
95
70
13
18
3
34
22
141
170
100
74
240
6,0±1,0
1
1,1
1,9
LC170NR55
55
95
70
13
18
3
34
22
141
170
100
74
350
6,0±1,0
1
1,1
1,9
LC170NR65
65
95
70
13
18
3
34
22
141
170
100
74
540
6,0±1,0
1
1,1
1,9
LC170NR75
75
95
70
13
18
3
34
22
141
170
100
74
700
6,0±1,0
1
1,1
1,9
LC302NR35
35
66
45
10.3
12
2.5
25.5
12.8
82.5
102
70
57
55
3,5±0,5
1
1,9
1,9
LC302NR45
45
66
45
10.3
12
2.5
25.5
12.8
82.5
102
70
57
100
3,5±0,5
1
1,9
1,9
LC302NR55
55
66
45
10.3
12
2.5
25.5
12.8
82.5
102
70
57
140
3,5±0,5
1
1,9
1,9
LC302NR65
65
66
45
10.3
12
2.5
25.5
12.8
82.5
102
70
57
180
3,5±0,5
1
1,9
1,9
LC302NR75
75
66
45
10.3
12
2.5
25.5
12.8
82.5
102
70
57
350
3,5±0,5
1
1,9
1,9
REF / ART.NR
DIMENSIONS
ØA
B
e
ØG
mm.

AC

AC102
60
8
5
13
AC170
75
8
5
21

AR

AR102
47
6.5
.
13
AR170
62
7
.
23


Polígono Industrial Lastaola, Parcela 3,
Naves A8-A11, 20120 Hernani (Gipuzkoa)
Tel: +34 943 335 350 · Fax: +34 943 335 291